6IX9INE Snitches on Stand Claims Jim Jones is Gang Member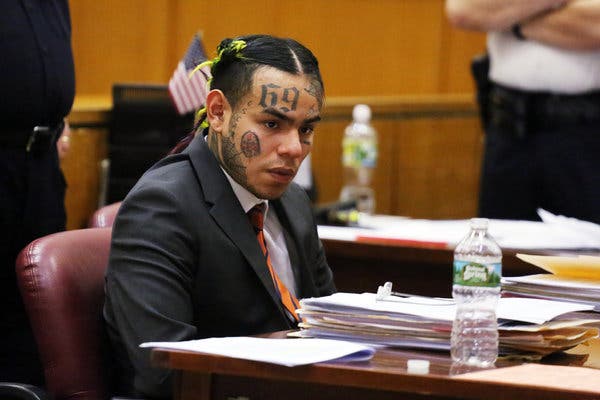 Tekashi69's ex-bodyguard threatened to shoot him as he snatched the rapper from his chauffeur-driven ride and the whole ordeal was captured on video.
The dash cam video starts as a car smashes into the back of the SUV carrying Tekashi — he was sitting in the front passenger seat — and then 2 men were at Tekashi's door forcing him out of the vehicle. Tekashi tried to put up a bit of a fight but not for long.
Ellison went to Tekashi's home, and surveillance footage — obtained by the feds — shows Tekashi's girlfriend handing over a bag of money and jewelry to Ellison's crew.
Tekashi testified he offered Nine Trey members $50,000 to rob and shoot at Harv after the kidnapping incident. He also just testified rapper Jim Jones is a member of Nine Trey.
Prosecutors played a phone conversation between Jones, Shotti and Mel Murda in which they're all talking about getting revenge on Tekashi for snitching. They make multiple references to Tekashi getting "violated."
The rapper testified that he didn't ID his kidnappers to police or the media after the incident, but he did meet up with his former manager, Shotti, and Mel Murda afterward at his house and told them Harv and Nuke were the perps. Tekashi claims they stole $365k worth of his jewelry, and some of Harv's text messages were shown in which he's allegedly trying to unload the stolen jewelry.
There's more — a recorded prison convo with Mel and another associate was played for the jury in which Mel details the incident and says 2 guys — Black Boy and Hollywood — were involved. Tekashi testified that Black Boy is code for Nuke, and Hollywood is Harv.
Another convo between Tekashi and Shotti was played, in which Shotti references the kidnapping and suggests he wants to kill Harv for it. The convo was captured by a wiretap in a van, and Tekashi testified he didn't know he and Shotti were being recorded.