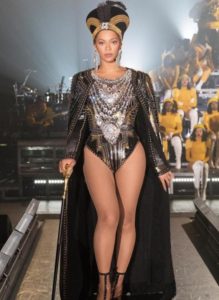 Beyonce reunited with Destiny's Child and JAY-Z to tease their upcoming collaborative tour.
Beyonce opened her long-anticipated performance singing "Crazy in Love" accompanied by a New Orleans-style brass marching band, and later crooned a rendition of "Lift Every Voice and Sing," also known as the black national anthem.
Beyoncé took the stage for an epic performance last night. Watch excerpts of her set below.
And here's the full setlist for Beyoncé's Coachella headline set:
1. Crazy in Love
2. Freedom
3. Formation
4. Sorry / Me, Myself and I / Kitty Kat
5. Bow Down / I Been on
6. Drunk in Love
7. Diva
8. Flawless
9. Top Off
10. 7/11
11. Don't Hurt Yourself
12. I Care
13. Partition
14. Yoncé
15. Mi Gente
16. Baby Boy / You Don't Love Me
17. Hold Up / Countdown
18. Check on It
19. Déjà Vu (with Jay-Z)
20. Run the World (Girls)
21. Lose My Breath (with Destiny's Child)
22. Say My Name (with Destiny's Child)
23. Soldier (with Destiny's Child)
24. Get Me Bodied (with Solange Knowles)
25. Single Ladies (Put a Ring on It)
26. Love on Top