Travis Scott – Astroworld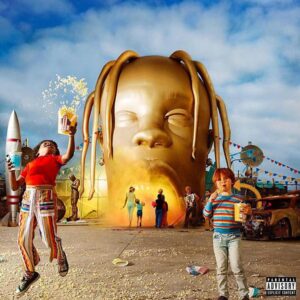 "Astroworld" has arrived, featuring Drake, The Weeknd, Sheck Wes, Swae Lee & more.
Travis Scott's long awaited third studio album, Astroworld, has finally arrived. 17 tracks in total and features guest appearances from Sheck Wes, Drake, Juice Wrld, Migos, The Weeknd, Frank Ocean, Pharrell, Nav, Gunna, and Swae Lee. Production is handled by a slew of hitmakers, including Mike Dean, Frank Dukes, WondaGurl, FKi 1st, Sonny Digital, and more.
Tracklist:
01. Stargazing [Prod. by Sonny Digital, B Wheezy, B Korn & 30 Roc]
02. Carousel (feat. Frank Ocean) [Prod. by Hit-Boy]
03. Sicko Mode (feat. Drake) [Prod. by Hit-Boy, OZ, Tay Keith & Cubeatz]
04. R.I.P. Screw [Prod. by Travis Scott & FKi 1st]
05. Stop Trying To Be God [Prod. by Travis Scott, J Beatzz & Mike Dean]
06. No Bystanders [Prod. by Wondagurl, Gezin 808 Mafia & Mike Dean]
07. Skeletons (feat. Tame Impala, The Weeknd & Pharrell) [Prod. by Tame Impala]
08. Wake Up (feat. The Weeknd) [Prod. by Frank Dukes, Wallis Lane & Sevn Thomas]
09. 5% Tint [Prod. by FKi 1st]
10. NC-17 (feat. 21 Savage) [Prod. by Boi-1da & Cubeatz]
11. Astrothunder [Prod. by Travis Scott, Frank Dukes, John Mayer & Thundercat]
12. Yosemite (feat. Nav) [Prod. by June James & Turbo]
13. Can't Say [Prod. by Frank Dukes, Wondagurl]
14. Who? What! (feat. Migos) [Prod. by Cardo & 30 Roc]
15. Butterfly Effect [Prod. by Murda Beatz]
16. Houstonfornication [Prod. by Sevn Thomas & Wallis Lane]
17. Coffee Bean [Prod. by Nineteen85 & Tim Suby]