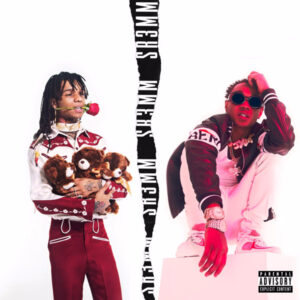 Rae Sremmurd release their highly anticipated triple album "SR3MM."
The Rae Sremmurd duo, Swae Lee and Slim Jxmmi deliver their third album "SremmLife 3" (stylized as SR3MM), as well as Swae Lee's "Swaecation" and Slim Jxmmi's "Jxmtro." The three projects contain many big name features. Travis Scott, Juicy J, The Weeknd and Future will appear on "SR3MM", Young Thug is the lone cameo on Swae's solo LP and Jxmmi enlists Zoe Kravitz, Pharell, Trouble and Riff 3x.
Check out tracklists and stream all three albums below.
Rae Sremmurd's SR3MM Tracklist:
1. "Up In My Cocina"
2. "Close" Featuring Travis Scott
3. "Bedtime Stories" Featuring The Weeknd
4. "Perplexing Pegasus"
5. "Buckets (Balling)" Featuring Future
6. "42"
7. "Powerglide" Featuring Juicy J
8. "Rock N Roll Hall Of Fame"
9. "T'D Up"
Swae Lee's Swaecation Tracklist:
1. "Touchscreen Navigation"
2. "Heartbreak In Encino Hills"
3. "Heat Of The Moment"
4. "Offshore" Featuring Young Thug
5. "Guatemala"
6. "Lost Angels"
7. "Hurt To Look"
8. "Red Wine"
9. "What's In Your Heart?"
Slim Jxmmi's Jxmtro Tracklist:
1. "Brxnks Trunk"
2. "Players Club"
3. "Anti-Social Smokers Club" Featuring Zoe Kravitz
4. "Chanel" Featuring Swae Lee and Pharrell
5. "Cap" Featuring Trouble
6. "Changed Up"
7. "Keep God First"
8. "Juggling Biddies" Featuring Riff 3X
9. "Growed Up"